We're ready to ROCK local, social & mobile in Dallas this summer and we need the help of awesome sponsors like you to help us get it done! You have the unique opportunity to put your brand directly in front of high-level, industry-leading employers and their employees at the fifth annual Rocks Digital Marketing Conference!
The best, most fun and influential digital marketers, social media gurus and local search pros will be descending upon Dallas, June 29 – July 1, and we've got great sponsorship opportunities for you to get involved… get with us now to learn more and secure your spot to Rock! (Download the sponsor packet.)
We're returning to the Addison Conference Center to celebrate Social Media Day, and new for this year, Local Search Day with education, empowerment and encouragement to the expected 300+ attendees from our industry.
Who Attends Rocks Digital?
When you have 30+ sessions, with powerhouse speakers like Greg Sterling (Local Search Association), Eric Enge (Stone Temple Consulting), Kate Buck, Jr (Social Media Pro), and Eve Mayer (Social Media Delivered), you can bet the most innovative and creative minds in the local digital space will be drawn to attend. The following is a breakdown of last year's attendee profile.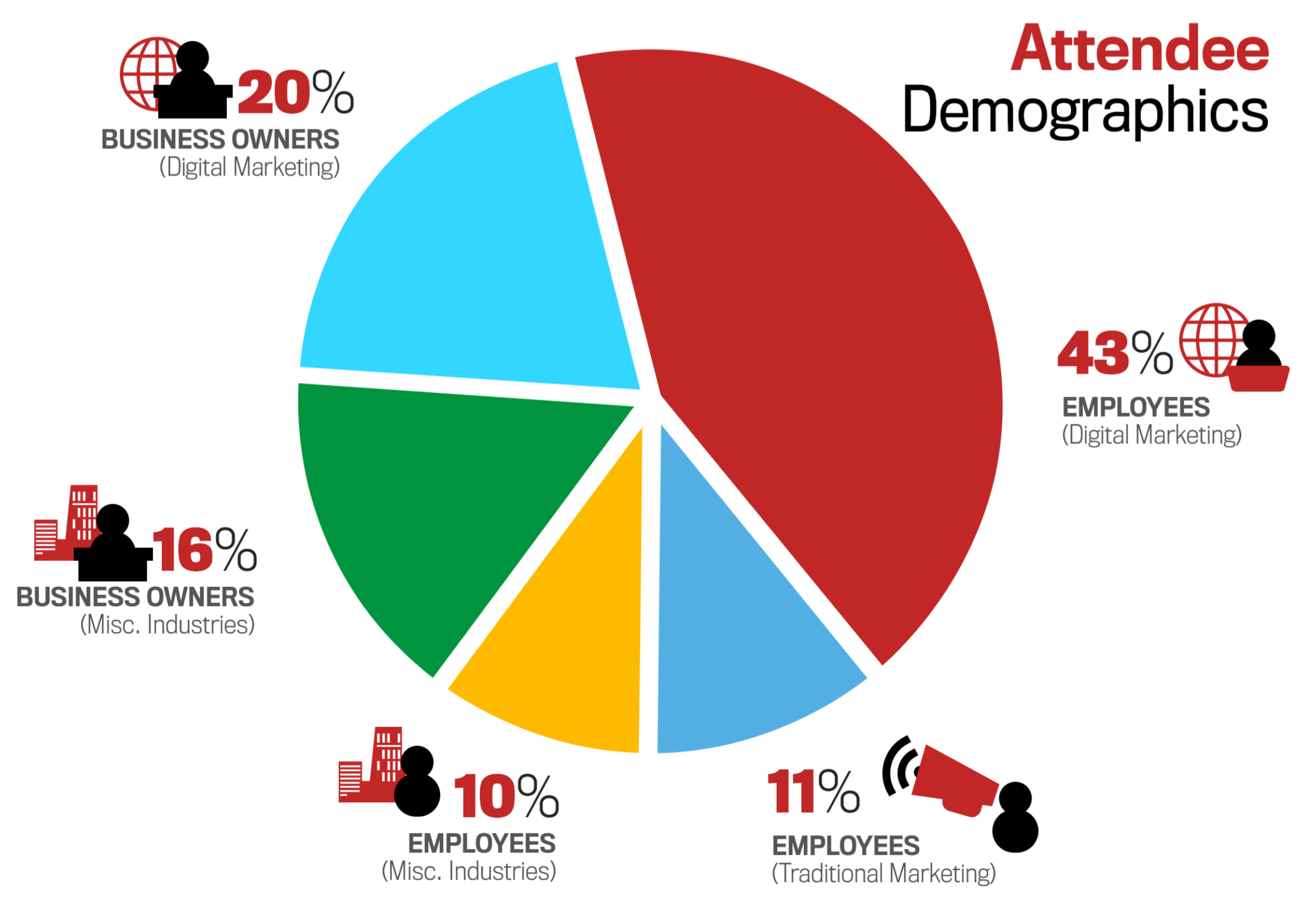 Sampling of Companies that Previously Attended Our Events
| | | | |
| --- | --- | --- | --- |
| ✓ BIA/Kelsey | ✓ Dex Media | ✓ Standing Dog | ✓ Speakeasy |
| ✓ Dallas SEO Dogs | ✓ Google | ✓ Rainmaker.FM | ✓ Studio Movie Grill |
| ✓ City of Arlington Parks & Recreation | ✓ Southern Methodist University (SMU) | ✓ United Parcel Service (UPS) | ✓ The University of Texas at Dallas (UTD) |
| ✓ The Dallas Cowboys | ✓ The Javelin Group | ✓ Heroic Search | ✓ Medical City Dallas |
For more information about speakers, sessions and to get a peek at our Conference Agenda-at-a-Glance, click here.
What's in it for You?
We know you love us here at Rocks Digital, but we also know life is give and take. So while we give you a conference with the opportunity to learn from industry heavy-hitters and innovators, and the chance to hear about cutting-edge tech and tools, we know you want something in return for giving us the chance to do what we love to do.
There are many levels to engage in and great rewards to reap from supporting us. Visit the sponsor opportunities page for a breakdown of those benefits.
Rocks Digital ROCKS the Community
Partnering with Rocks Digital isn't just about the digital marketing industry; we take our commitment to serve the community very seriously. As such, we're excited to let you know that a portion of the proceeds from your sponsorship will go to TryMunity. This non-profit organization is doing great work to increase public awareness of Traumatic Brain Injury (TBI) and provide support to families dealing with its effects. Also, as a reminder, this means your sponsorship is considered a charitable donation.
Now that you know what's in store for you, how you can do something great to gain visibility for your organization and how you can support a wonderful community organization; what are you waiting for? Join the other sponsors and get ROCKing!
For a detailed breakdown of what's available review our Sponsorship Opportunity packet here.
THANK YOU for your consideration, we cannot do what we do without YOU!